Sustainable Helsinki Stopover Tour
Layover in Helsinki? Stopover Finland - Sustainable City Tour of Helsinki welcomes you straight from the Helsinki Airport by direct train connection and public transport to see a wide selection of city's main attractions and hear the stories behind them!
Stopover Helsinki & Tram Sightseeing Helsinki
are part of the services by Happy Guide Helsinki, the provider of the happiest and healthiest sustainable tour services in Helsinki and Southern Finland.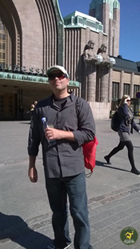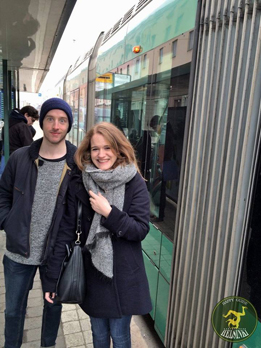 See the main sights effectively
By tram we get easily a bit further away from the center area to see other highlights as well. From the historical and architectural wonders of the Olympic Stadium, Finlandia Hall and the new Opera building. The bohemian hipster areas of Kallio and Hakaniemi are on our route as well with the biggest indoor market hall of the city.
Day full of new experiences
Within a 4-5 hours timeframe you will learn a lot from the local lifestyle and culture as well. And get to sense the many moods of Helsinki with us so that after the tour you can feel like really visiting our Northern capital, not just changing flights. We have a daily public groups  at 10 am and 3.30 pm available with an advance reservation.
You can also contact us for other options, if your flight schedule does not support joining our public tours. We offer private tour guide services 24/7. Contact us by email!  
Reservations 24 h prior to the tour at the latest!
Public rail transport in Helsinki Metropolitan area is very effective and eco-friendly. The trains from the airport even recycle their own energy. Happy Guide Helsinki welcomes you to the city where the tracks are green 🙂
HIGHLIGHTS
Sustainable Sightseeing by local train, trams & subway   
TIME: Daily at 10 am & 3.30 pm | With a reservation by 24 hours prior the tour (at the latest!)
DURATION: 4 - 5 hours
PRICE:
Including your guide, snack & 24 h public transport ticket of Helsinki Metropolitan region, which is yours to use after the tour as well!
95 euros (1 person) 
160 euros (2 persons)
225 euros (3 persons)
300 euros (4 persons) 
For more participants 75 euros / person up to 8 people which is the maximum we take for 1 guide. 
Price is reservation based and one public group might have several reservations.
For groups with private guide and tours starting different time we adjust the visited sites according to your wishes and time of the day!
Private Führungen in Deutsch - Servicios privados en español!
Meeting point
Our meeting point for the Stopover tours is by the Helsinki Regional Tourist info desk inside the Helsinki Airport Terminal 2. It is just on the side of the doors of Arrival Hall 2A when you exit the closed international airport zone.
Look for the guide with Happy Guide Helsinki sign!